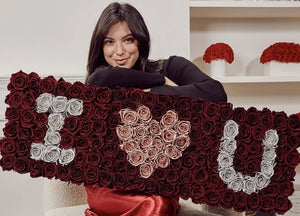 PERSONALIZE YOUR GIFT
Take your arrangement to the next level by customizing it with a combination of rose colors, letters or numbers; it's never been so easy to make the loved ones in your life feel extra special.
PERSONALIZATION
The perfect gift for everyone you love - including yourself.
Meet the new addition to our Acrylic Collection, Un Petit Bisou. (meaning 'A little kiss' in French) It comprises of a stunning singular Eternity Rose encased in a quadrangular clear acrylic box. Un Petit Bisou are elegant, simple little luxuries that will make any space feel more sophisticated.