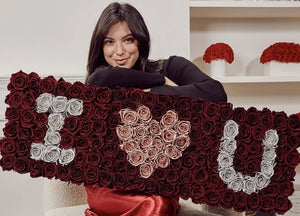 PERSONALIZE YOUR GIFT
Take your arrangement to the next level by customizing it with a combination of rose colors, letters or numbers; it's never been so easy to make the loved ones in your life feel extra special.
PERSONALIZATION
100% REAL ROSE BOUQUETS GUARANTEED TO LAST A YEAR
For the traditionalist who loves the look of long-stem roses, these are gorgeous blooms you can cherish for months. A perfect arrangement to use for your home décor or as a romantic gift. Either way, these luxurious roses are guaranteed to make a big impression.