7 Common Flower Mistakes Your Florist Wants You to Know
Top florists and planners share the most common mistakes couples make when choosing wedding flowers—and how to avoid them.
by Maggie Seaver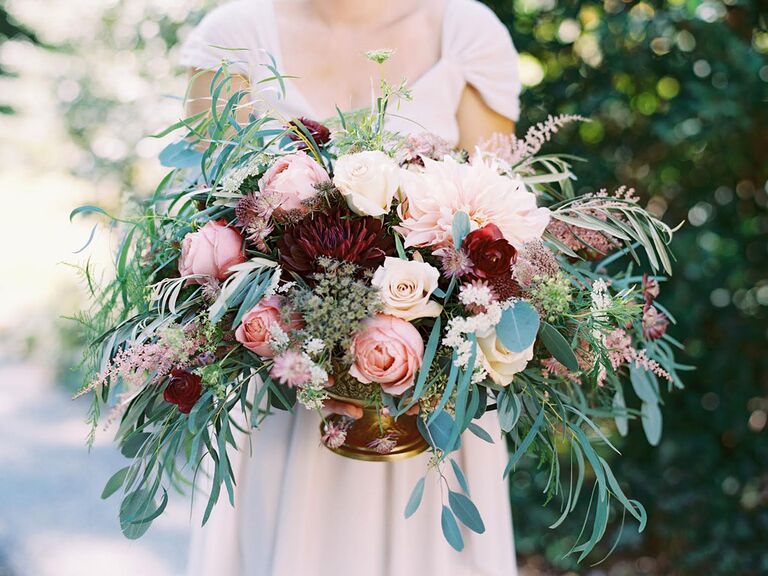 ABBY JIU PHOTOGRAPHY | FLORALS BY HOLLY HEIDER CHAPPLE FLOWERS
Finding gorgeous flower inspiration is pure fun, but actually getting down to business and choosing, designing and coordinating your stems is a whole other hurdle to jump. How are you supposed to know the difference between a cornflower and a chrysanthemum? Or how to maximize your blooms depending on the season—and on a tight budget? That's where your florist comes in. (And if you haven't found yours yet, head over to our All-In-One Wedding Planner app to find one in your area and hone in on your style with our fun Style Quiz.)
We asked seven flower and event design experts, all featured on The Knot Wed 100—literally a list of 100 must-know vendors in the wedding industry—to share the biggest and most common mistakes couples make when it comes to wedding florals. Heads up—this is exactly what florists wish you knew. (The main theme? Trust your pros!)
1. Trying to Replicate Inspiration
"I often see brides obsessed with an image, whether it's from a tear sheet or Pinterest. It's nearly impossible to re-create an image exactly, so my advice is focus less on replicating a photo and instead be open and comfortable with the fact that all your inspiration is meant to be used as a springboard for a new interpretation."
—Nancy Liu Chin, Nancy Liu Chin Designs in San Francisco, California
2. Saying No Before You Know
"We've had couples who say they're not into flowers and want to fill the reception space with nonfloral objects like candles. But, with the rare exception, a certain amount of flowers (even if it's very minimal) are necessary to soften a space. Maybe voice that flowers aren't the main priority, versus saying you don't want any flowers at all. Trust your pros—they'll help guide you to the right look." 
—Julie Savage, Strawberry Milk Events in Alexandria, Virginia
3. Being Closed-Minded About Colors
"I think the biggest flower mistakes couples make is not being open-minded to color palettes and flower types. Many times they have a set palette [and florals] in mind, but don't know about other cool, rare blooms that happen to be in season at the time of their wedding. The best couple is one who can be loose and flexible with their floral choices, then I can find the most beautiful blooms for them." 
—Alicia Rico, Bows & Arrows in Dallas, Texas
4. Assuming You Need Flowers Everywhere
"Some couples assume they need to have florals on every table and in every corner. They don't realize once the event space fills with people, most of those vignettes go unseen or unappreciated. To avoid this, focus your floral budget on one unforgettable statement piece, then use other details like candlelight to accent. Or allocate florals for the all memorable, photo-worthy moments, like your first look (highlight the bridal bouquet and the boutonniere), the "I dos" at the altar (think about what florals will frame you as a couple) and the first dance (have wow-worthy blooms over or around the dance floor)." 
—Kelly Revels, The Vine in Saint Simons Island, Georgia
5. Putting All Your Eggs in One Basket
"Florals are so seasonal, and due to weather changes, some things are just not dependable. Take peonies for example: They miss their traditional start week often. Before settling on a specific flower, find out what's perfect and in season before getting your heart set on that."
—Todd Fiscus, Todd Events in Dallas and Houston, Texas
6. Mistaking Inspiration for Reality
"A common mistake brides make is falling in love with particular blooms before finding out their seasonality or cost. While searching for inspiration is fun, it can often lead to disappointment or confusion. Florals featured on social media or in editorial spreads are typically high-end blooms and look so stunning because they're spectacular specimens. An experienced floral designer can guide you to the right blooms for your special day that are available and within your budget." 
—Holly Chapple, Holly Heider Chapple Flowers in Leesburg, Virginia
7. Choosing Florals Without Considering Your Venue
"After signing for a venue, couples often start the design process without considering the venue's existing look—or they continue planning the décor and florals based on ideas they dreamt up before making a venue choice. (I've had a couple ask for a simple, modern wedding in blush, lavender and white, but they'd already selected an ornate vintage ballroom featuring white, gray, orange and red.) Some big design elements couples should consider before making their venue selection are the venue's overall style and color, as well as the lighting, chairs, linens and place settings offered. That way their palette aligns with the space." 
—Natalie Walsh, HMR Designs in Chicago, Illinois
---